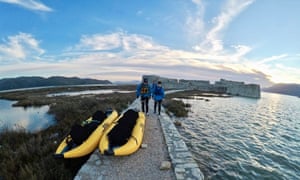 'Go, go, go!" The white-water rafting guide shouted orders from the back of the boat and our five-strong crew paddled hard to stay on course. We were tackling a stretch of the Vjosa, a 270km river that begins in Greece (where it is called the Aoös) and flows through Albania and into the Adriatic just north of the city of Vlora. I was on a recce trip for a new southern Albanian break with Much Better Adventures, which specialises in long weekends to wild places in Europe and North Africa. But this trip was not just a fun adventure – rather just part of a campaign to save the river, which is under threat from proposed dams. A documentary film, Blue Heart, out this month, will highlight the fight to protect Europe's last wild rivers, with help from ecotourism.
From May to October, the Vjosa's canyons are navigable by raft – at thrilling speeds and with waves well over a metre high. We were there in early March, when these narrow stretches of water were to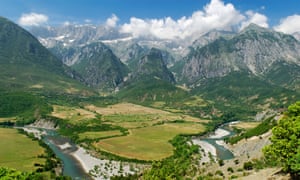 dangerous, so rafted a wider, gentler section: it offered less adrenaline, but gave a flavour of the full trip. Swirling downriver, we seemed to be journeying through an untouched land.
Under communist dictator Enver Hoxha, Albania was cut off from the world for nearly 50 years in the postwar era, and still feels like unexplored territory – a rare thing only three hours' flight from the UK. The river banks rose steeply to snowcapped mountains, and the only other people we saw were a couple of boys riding a donkey.
Before the rafting, I met Olsi Nika from NGO EcoAlbania, to find out why this river is so special. "The Vjosa and most of its tributaries are completely undisturbed," he said. "It is the last big, wild, free-flowing river in Europe outside of Russia." He and other environmentalists want to keep it this way. "We have a vision to declare a national park, and offer ecotourism: rafting, kayaking, fly-fishing."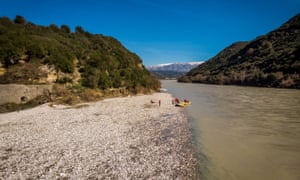 New river-based ventures are springing up, such as the Albanian Adventure Resort on the River Osum near Çorovoda, which will offer canyoning, riverboarding and more from next spring. And Albania's mountains, soaring to 2,800 metres, have huge potential for hiking and climbing. The hope is that sustainable adventure tourism will offer a viable source of revenue for the country.
But the environmentalists have a battle on their hands. The government plans to build eight major hydropower plants on the Vjosa, and another 20 or so on its tributaries as part of a massive Balkans hydro project. More than 500 hydropower plants are planned for Albania, among about 3,000 in the wider region. The consequences include loss of habitat and rare species, flooding, coastal erosion and compulsory resettlement, said Nika. "So 2018 is a crucial year for the Vjosa. There will be lawsuits, lobbying, scientific studies and artist-led protests." As part of the battle, Much Better Adventures is working with Albanian activists and local operators such as the Albania Rafting Group to encourage people to book a trip
Besides rafting, we explored plenty of the rest of the country, taking in coast and historic sites. A highlight was the ancient city of Butrint, a Unesco world heritage site on a spectacular wooded peninsula, between a lake and a channel leading to the Straits of Corfu. After seeing the theatre, baptistry and other remains, we kayaked down the channel to Ali Pasha's Castle, an island fortress named after the Ottoman ruler.
Albania's 426km of Adriatic and Ionian coastline offers excellent hiking, too. Saranda, the main resort on the Albanian Riviera, is very built-up but you don't have to go far to find unspoiled beaches and clifftop hikes. We started 20km up the coast at Lukova, which has a few summer beach bars and restaurants, and walked for 90 minutes along the cliffs to Krorez Bay. This beach has golden sand, turquoise water and no tourists. We enjoyed a swim and snorkel, then scrambled up the sheer cliff and hacked our way through undergrowth to the next beach, dramatic Kakome, backed by thickly forested cliffs. (This beach is now privately owned, so walkers need permission to visit – our guides had phoned ahead.)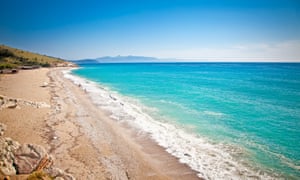 We spent a night at a homestay in Peshtan, a tiny village close to the Vjosa. By day, we hiked to a lookout point where the river meets one of its tributaries – the view was worth braving a rickety wooden bridge over the canyon. By night, we sat under the stars in a villager's garden, drank raki and listened to a impromptu performance of pleqërishte – polyphonic folk songs by local shepherds. This peaceful way of life would be destroyed by one of the planned dams.
At the Benja natural spa, near the town of Permet, we bathed in a warm pool by the river and slathered ourselves in green mud. We had this wonder almost to ourselves but the baths are an important summer tourist attraction. They're at the mouth of the Langarica canyon, where there are more hot springs and caves. Here, too, a dam is planned – if it goes ahead, the canyon will run dry and the springs will be put in jeopardy.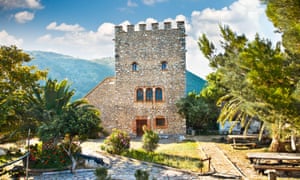 We sampled city life in Gjirokastra (another Unesco world heritage site, for its Ottoman old town), about 55km north of Saranda. It is known for its 17th-century houses and bazaar, and 18th-century mosque. Ismail Kadare was born here and his former home is now a museum – the leading Albanian writer won the inaugural Man Booker international prize in 2005.
We squeezed in a visit to Berat, too, (yet another Unesco site) on the way to Tirana. This is not on the regular itinerary, but well worth extending a trip for. Its 13th-century citadel has steep cobbled streets and Byzantine churches; Ottoman houses tumble down the hill to the Osum river and climb up the other side. We stayed at the gloriously kitsch Castle Park hotel, a jumble of taxidermy and folk art in woods just outside town, and dined on the usual spread of homemade bread and olive oil, salads, grilled vegetables, cheese, spinach byrek (filled flaky pastry) and crispy lamb.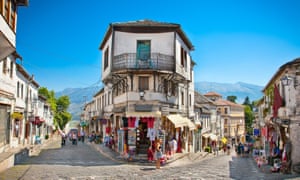 It was a whirlwind insight into a place I'd gladly return to. A country with beaches, sunny climate, scenery and cuisine to rival far more popular Mediterranean destinations, with fewer crowds and at a fraction of the cost. Now is the time to experience its unspoiled beauty – and to help ensure it stays that way. Wait, and it could be too late. As Nika said, "If you put a dam in a river, you kill it forever."
How to do it
The trip was provided by Much Better Adventures, whose three-day Raft, Hike and Kayak Albania trip costs from £350, including accommodation, meals, local transport, guide and activities, but not flights.
Getting there
From April to October, easyJet flies from Bristol, Gatwick, Luton, Manchester and Newcastle to Corfu from about £60 return; Ionian Seaways has a 30-minute hydrofoil from Corfu to Saranda from €38 return. BA flies year-round from Gatwick to Tirana from £114 return.
When to go
May/June and September/October are best for warm weather, few crowds and lower prices. Summer is stifling unless you head into the mountains; winter is freezing (and skiing has yet to take off).
Exchange rate
£1 = 150 lek.
A draught beer and a cappucino are each about 140 lek.